Itinerary
Jiaming Lake, located in Taitung County, is 3310 meters above sea level. It is the second highest mountain lake among the lakes in Taiwan. The lake is 6 meters deep and about two stories high. The lake does not dry all year round, and the color is deep blue like gems. It is called "Sapphire Lost by God" and "Angel's Tears" by the mountaineering community. It is one of the most famous mountaineering secrets in Taiwan in recent years. This tour is suitable for travelers with hiking experience. sign up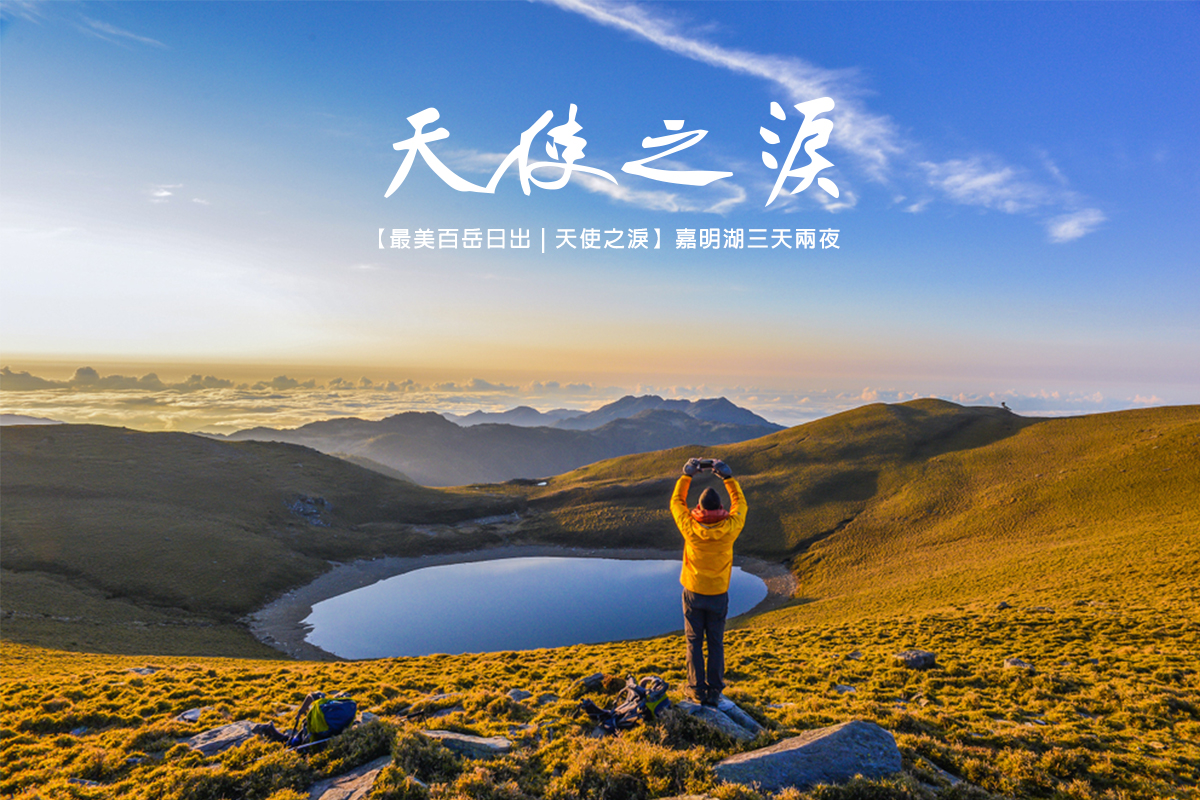 Jiaming Lake Schedule
Day 1: Chishang Railway Station – Jie Maosi Mountain Pass – Xinwuluxi Campground (C1)
*12:00 Assemble at Chishang Railway Station and depart, take a nine-seater ride to the Jie Maosi mountain pass / brunch at your own expense (06:40 from Taipei Railway Station, take Puyuma 406 (Sulin → Taitung), arrive at Chishang Railway Station at 10:30 ) *14:00 Jie Maosi mountain pass
Climb 600M (H1900-H2500) to Jie Maosi Mountain, then cut 200M (H2500-H2300) to Xinwuluxi camp
*17:00 Xinwuluxi camp (stay in tent)
Day 2: Xinwuluxi Campsite-Football Field Campsite-Lieliao Campsite
*06:00 Depart from Xinwuluxi camp and climb 500M (H2300 – H2800) to the football field camp *Continue to climb 400M (H28300 – H3200) to Lieliao camp (tent)
Due to the large number of climbers, the camp will be adjusted according to the number of people (Lieliao camp or Jiaming Lake sister pool) *Two days of personal drinking water (recommended 4 liters)
Day3: Hunting Camp-Jiaming Lake-Sancha Mountain-Jiaming Lake Mountain House-Xiangyang Mountain-Xiangyang Mountain House-Xiangyang Mountain Pass-Chishang Railway Station
*Depart from the camp at 04:00, climb 100M (H3200-H3300) to Jiaming Lake to watch the sunrise *Climb Sancha Mountain, Baiyue ranked 27th, H3,496 meters
*Climbing Xiangyang Mountain, Baiyue ranked 16th, H3,608 meters, the eighth show
*Downhill 1300M to Xiangyang Mountain Trail H2,370
*The last train from Chihshang to Taipei at 20:00 Ziqiang 317 to Yuli and then transfer to Puyuma 447 to Taipei, so you must arrive at the mountain pass before 17:00
Day4: Rest Day, sleep at home until full
Meeting place
Assemble and depart at Taitung Chishang Railway Station (please take it by yourself or order public transportation)
Book Now
| | | |
| --- | --- | --- |
| Date | Status | Price/Pax |
| Weekdays | Available | NT 7,500 |
Registration fee includes: breakfast and dinner (lunch are at your own expense), travel liability insurance 2 million, professional mountain guide, tent (4 people account), fare from Chishang Railway Station to Xiangyang Recreation Area, emergency refuge package for beginners climbing
Registration conditions
1. Group members who have participated in the Mount Garry Top One-day Tour of Orange Cat TTtrips or the two-day Hehuan Sunrise Tour will be given priority to qualify for the group review
2. If you have not participated in any hiking group of Orange Cat, please click "Quotation" and provide past mountaineering experience and contact information. Professional mountaineering guides will review the qualifications for joining the group before signing up.
Purchase process
Click "Quote" to sign up, and the service staff will contact you within 24 hours to confirm the itinerary
Common Q&A
Q1: Do I need to reload?
No, just carry your own equipment
Free back gas, cooking utensils, common food (breakfast, dinner), tent sleeping bag
The lunch time is in the mountains and forests. Please prepare three-day lunch food (bread toast, jerky, digestive cake, eight-treasure porridge, etc.)
Q2: I rarely climb mountains. Is it suitable to participate in this trip?
It is suitable for people who usually have the habit of hiking or exercising. If you rarely exercise and have not climbed the mountain, definitely do physical and walking training before departure
Q3: After ordering, is it guaranteed to be out of the group?
Yes, if the trip is not possible due to insufficient number of people, you can switch to another session or choose a full refund
Q4: What are the payment methods that can be selected when registering?
ATM remittance (five digits after transfer notification), credit card (please contact customer service to create an order for you)
Zhenxin International Travel Agency Account
Bank code: Yushan Bank 808
Branch: Luzhou Branch
Account Name: Zhenxin International Travel Service Co., Ltd.
Account number: 0820940016517
Q5: When will I register at the latest?
A month before leaving the group
Q6: If the itinerary must be cancelled due to personal reasons, can I get a refund?
If the guest cancels the itinerary due to personal reasons, the fee will be processed in accordance with the "Domestic Tourism Finalized Contract" issued by the Tourism Bureau. For more information, please read TTtrips Cancellation and Refund
Terms And Conditions
------Please Note Before your Resisrer------
l Remind you that mountaineering is a high-risk activity, please be sure to purchase additional travel safety mountaineering insurance by yourself, our travel liability insurance is basic liability insurance
l Mountain climbing or hiking activities are potentially dangerous. Registration means that you have understood the unforeseeable emergencies in the course and are responsible for yourself (including personal valuables). Please take the initiative to inform family members, relatives, and the relevant itinerary and attention of this activity matter
l Pay attention to safety during the itinerary and follow the arrangements of the leader or guide. It is strictly forbidden to take risks and leave the team without authorization. Due to the danger and unpredictability of outdoor sports, participants should be fully responsible for their actions and consequences
l In case of bad weather or irresistible factors, the company reserves the right to cancel or change the itinerary. When the leader decides to retreat based on safety reasons during the journey, all group members should comply with the retreat
l During the itinerary, if a partner has a situation that threatens the safety of life, the whole team shall advance and retreat together, and no objection is allowed, and since the climbing team is a legal "dangerous community", the whole team should advance and retreat together
l Participants need to carefully evaluate their physical fitness and health status. The Hehuan Mountain and Ocean Trail is more than 3,000 meters, and the oxygen content is only 60% of that of the flat land. Please do not sign up for the following conditions: poor physical fitness, surgery in the past six months, panting, heart attack History of vascular disease, fear of heights, pregnancy, and other health factors that can cause danger. It is recommended that you assess your physical condition before signing up
l Participants need to bring their own rain gear and wear hiking shoes or sports shoes. If the equipment is not complete, the coach or guide has the right to refuse to lead, and there is no refund
l The guide will do everything possible to maintain the safety of the participants, but if the participant is still injured or killed due to personal negligence (such as a sudden trip, fall, hit a tree, slip, leave the team, conceal physical problems, etc.), it is not allowed Blame the orange cat
l If participants retreat due to personal factors (such as temporary accidents, physical insufficiency, mountain sickness, etc.), the expenses (such as board and lodging, transportation, etc.) incurred must be borne by themselves, and part of the unfinished activities cannot be refunded
l It rains for one third of the day in Taiwan, and the outdoor environment is always cloudy, sunny and changeable. If it rains, it is normal, so raincoat and rain pants are essential equipment for climbing. Participants agree not to request to cancel the trip on the grounds of rain. If they cancel by themselves, there will be no refund
l If natural disasters (such as earthquakes, typhoons, heavy rains), road interruptions, or other emergencies affect the safety of the trip before departure, Orange Cat has the right to decide to cancel or postpone, and participants can choose to refund ( Deduct the part already spent) or postpone (deduct the part already spent), but cannot apply for any compensation. However, if the participant decides to cancel by one-sided judgment before departure, Orange Cat is not obliged to refund and does not agree to the extension