Before you come to visit Taiwan, something you should know...
Taiwan is really a cost-effective tourist destination. It is not only low consumption, but also has a lot of yummy food, amazing scenery, and the most important, warm personality Taiwanese. Moreover, Taiwan's transportation is convienient , even if it is backpacking to Taiwan, high-speed railway, MRT, chartered cars are common choice, and the main attractions are super easy to go!
Let's talk about how to prepare for backpacking in Taiwan!
Information of traveling in Taiwan...such as Flight ticket, money exchange, Internet, transportation, visa, currency, language, weather, voltage, tips, maps, tourist attractions, travel tips, etc.
Taiwan map overview
(圖片來源:depositphotos)
Travel season
Taiwan has a maritime climate. The spring and winter are perfect seasons. The summer and autumn depends on what you what to do. The annual average temperature is about 22 degrees. The highest average temperature is 27-28 degrees, and the lowest monthly average temperature is 15 -16 degrees. There is no snow in the urban areas of Taiwan, and only in a few high mountain areas can you see the fluttering shadow of snowflakes.
[Spring] March-May: Spring is the season for cherry blossom. The northern Taipei Yangmingshan, Danshui Tianyuan Palace, Taichung Wuling Farm, Qingjing Farm, and the cherry blossom season of Alishan also famous. In addition, every March, the Spring Festival Music Festival will be held in Kenting, attracting people from all over Taiwan and even around the world who love music to play together!
[Summer] June-August: In summer, it is best to go to the beach. Kenting and Penghu are the best places for beach vacations. And from May to August each year, Taitung will hold an annual hot air balloon carnival. The colorful hot air balloons are lifted up and lined up in front of them, and the spectacular sights are unforgettable.
[Autumn] September-November: Autumn is sunny and cool, it is a good time to travel. It is recommended that you go to the Alishan National Scenic Area to enjoy the magnificent view of the sun rising from the sea of clouds, or take a ride on the Alishan train to enjoy the scenery along the way.
[Winter] December-February: From November to January of the end of the year, it is the best season for maple in Taiwan. It is also a good time to go to hot springs.
Taiwan flights
There are too many flights to Taiwan, you can choose suitable flights on the internet.
Taiwan visa
Hong Kong and Macao passengers apply for Taiwan entry and exit permits in three ways:
1. Non-Hong Kong and Macao first-time applicants, or stay in Taiwan for more than 30 days to apply online, single entry and exit permit: NT$600; multiple entry and exit certificates for one year: NT$1,000; Multiple entry and exit certificates for the year: NT$2,000.
Online bidding system for overseas people:
Https://coa.immigration.gov.tw/coa-frontend/overseas-honk-macao
2. Internet visa (no more than 30 days in Taiwan), free of charge.
3. Visa on arrival (no more than 30 days in Taiwan), the fee is $NT300.
Singaporean travellers come to Taiwan: visa-free for 30 days.
Malaysian travelers come to Taiwan: visa-free for 30 days.
Currency
The currency of the Taiwan is NTD.
New Taiwan Dollar are divided into: 2000 yuan, 1,000 yuan, 500 yuan, 200 yuan, and 100 yuan.
The coins of the New Taiwan Dollar are divided into: 50 yuan, 20 yuan, 10 yuan, 5 yuan, and 1 yuan.
To exchange foreign currency, you can go to the designated bank of the government or the International Tourist Hotel. The receipts obtained at the time of redemption must be properly retained. If you want to exchange the unused NT dollars before leaving the country, you must present this receipt.
➔ Refer to Taiwan bank rate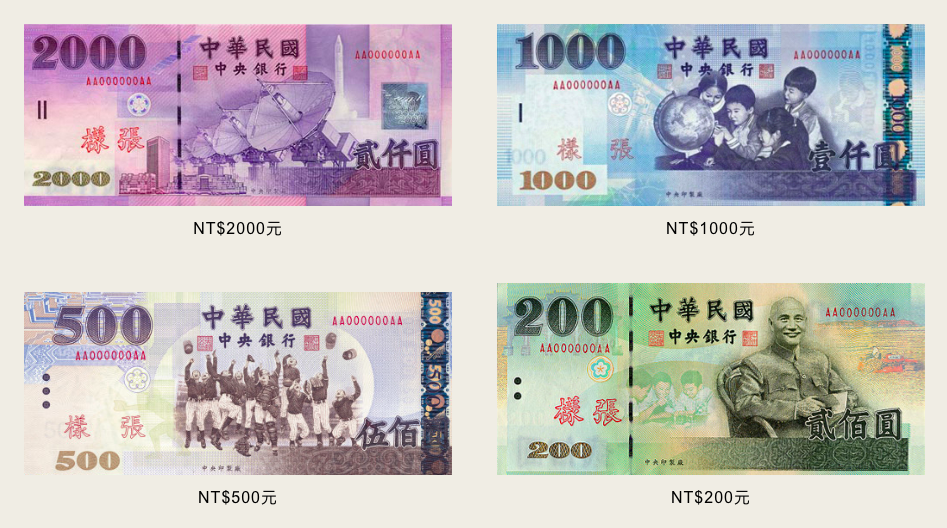 (圖片來源:台灣觀光局)
Internet
The easiest and cheapest way to purchase a Taiwan Internet card is to buy it online and then pick it up at a designated location in the airport after arriving in Taiwan. Or directly after the direct comparison to the airport, you can buy it directly on the spot!
➔ It is also very important that the mobile power supply must be taken more, because it is in foreign countries, and the information of the mobile phone is needed all the time. Using google map navigation is very power-consuming, remember!
Language
Mainly in traditional Chinese, Minnan dialect is also quite common, and Hakka dialect is also used in some areas.
Voltage
Taiwan's general household lighting and small appliances voltage is 110V or 220V, flat and two holes, 60Hz, if there are electrical appliances imported from abroad, you must confirm whether the voltage and frequency are applicable.
Time zone
Hong Kong / Macau / Singapore / Malaysia, no time difference with Taiwan!
Airport transportation
Taoyuan International Airport to Taipei:
1. Airport shuttle bus
2. Airport MRT.
3. Taiwan chartered car service, if you take a red-eye flight, or have too many luggages, or too many people, or do not want to study the route, it is recommended that book a chartered car, it will be safer and more convenient.
Taiwan transportation
1. High-speed railway
2. Taiwan railway
3. Bus
4. MRT only in Taipei and Kaohsiung.
There are 5 bus routes in Taipei MRT, namely Wenhu Line, Danshui Xinyi Line, Songshan Xindian Line, Zhonghe Xinlu Line and Bannan Line. The Kaohsiung MRT has three routes, namely the Red Line (Nangangshan-Xiaogang), the Orange Line (Xiziwan-Dayu) and the Light Rail (Faizii – Kaohsiung Exhibition Hall).
5. Taxi.
6. Taiwan chartered car service is the most time-saving and money-saving way.
➔ Taiwanese vehicles drive to the right, and there are many people who use locomotives as vehicles. Therefore, you must be careful to drive around and obey the traffic rules.
Emergency contact
| | |
| --- | --- |
| Ambulance | 119 |
| Police | 110 |
| Emergency contact | 112 |
Tax Refund
Taiwan's goods tax is usually included in the pricing and does not have to be added. After shopping, the merchant will give an invoice to the certificate.
A 10% service charge will be charged for hotels and restaurants in Taiwan.
Apply for a shopping tax refund:
Foreign visitors can purchase from the special store with the foreigner's shopping tax refund sign. On the same day, the accumulated tax-included purchase amount to the same special store is NT$2,000 or more. You can apply for a tax refund to the store salesperson on the day of purchase. Form and carry the accompanying goods to the exiter within 90 days.
Foreign traveler's shopping tax refund mark: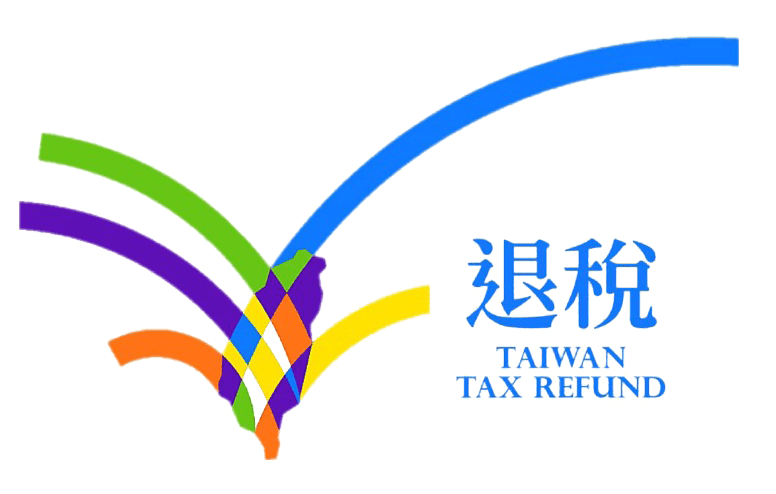 (圖片來源:台灣觀光局)
Apply for a shopping tax refund location:
1. Airport Port Tax Refund: Set up at the airport or port tax refund service counter.
2. Small-scale tax rebate on site: a special store with a tax refund sign for foreign travelers.
3. Special urban tax rebate: A special urban tax refund service counter with a foreign passenger shopping tax rebate.
Apply for a shopping tax refund procedure:
1. Before the baggage is checked, the entry permit form and the tax refund detailed application form are sent to the electronic automatic tax refund machine or the tax refund service counter to scan the license and the tax refund details.
The tax refund system will show whether the goods are subject to customs inspection. If there is no need to inspect the goods, the tax refund can be processed directly at the e-automatic tax refund machine and the tax refund service counter. The goods must be inspected by the customs. Please prepare the following documents and go to the customs counter:
2. Inspection form (electronic automatic tax refund machine printing).
3. Tax refund details application form.
4. Personal identification (passport, travel permit, entry and exit permit or temporary stay permit).
5. A unified invoice or electronic invoice with the words "returnable goods" and "four digits of the license number".
The specific item purchased.
With the electronic automatic tax refund machine and the tax refund service counter, the "Foreign Passengers Purchase Specific Goods Tax Refund Detail" will be issued and refunded to the designated bank or cash counter set up at the exit airport or port.
Opening hours
Public

Mon. - Fri.

08:30-12:30 / 13:30-17:30

Company

Mon. - Fri.

09:00-18:00

Department store

11:00-21:30

shops

10:00/11:00-21:00/22:00

convienient store

24/7

restaurants

Lunch 11:00-14:00

Dinner 17:00-22:00
Tips
Hotel checking, if the large baggage is delivered to the room by the waiter. Each room will be NT$50 or US$2 per piece of luggage.
Most restaurant will be subject to a 10% service charge in bill already.
The chartered car service does not have a rigid requirement for tipping. However, if you feel that the driver service is good, you can give a tip.
Safety
Taiwan's security is quite good, but valuables and personal belongings are still recommended to keep an eye on it in public.
Be alert in public places to prevent plagiarism.
Recommended attractions